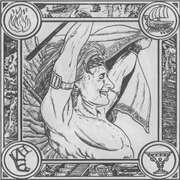 Floranuus, a Passion of Barsaive.
Ideals
Revelry, Energy, Victory, Motion
Appearance
Floranuus usually manifests as a humanoid shape composed of fire. However, the manifestation neither gives off heat nor burns any objects it touches.
Common Elements
Fire, parties, cheers, swift ships of both air and sea, wine, roads.
Powers
Floranuus inspires stamina, alters moods from depression to exhilaration and can travel at breath-taking speed anywhere in the world as a ball of fire.
Questor Powers
Inspire Stamine, Increase Speed, Speed Ships
Index